2019 NAHL Robertson Cup Playoffs
South Division Semi-Finals (best-of-five)
1-Amarillo Bulls vs. 4-Corpus Christi IceRays
Gm. 1 – Friday, April 12 at Amarillo (COR 6 AMA 5 F)
Gm. 2 – Saturday, April 13 at Amarillo (COR 6 AMA 5 F/OT)
GM. 3 – THURSDAY, APRIL 18, 7:05 PM AT AMERICAN BANK CENTER (CORPUS CHRISTI, TX)
*GM. 4 – FRIDAY, APRIL 19, 7:05 PM AT AMERICAN BANK CENTER (CORPUS CHRISTI, TX)
*Gm. 5 – Monday, April 22, 7:05 PM at Budweiser Bull Pen (Amarillo, TX)
*if necessary
PLAYOFF TICKET ON-SALE INFORMATION
All tickets for the home games (Game 3 and, if necessary, Game 4) of the best-of-five first-round series are just $10 each courtesy of AutoNation. Tickets are on sale now through all Ticketmaster outlets and the American Bank Center box office, including by phone at 800-653-8000 and online at bit.ly/iceraystix.
FREE TICKETS - PLAYOFFS PRESENTED BY AUTONATION
A select number of complimentary ticket vouchers are available to fans at AutoNation locations in Corpus Christi:
AutoNation Chevrolet North Corpus Christi - 2118 S Padre Island Dr
AutoNation USA - 3115 S Padre Island Dr
AutoNation Pre-Owned - 3326 S Padre Island Dr
AutoNation Toyota - 6672 S Padre Island Dr
AutoNation Chevrolet South Corpus Christi - 6650 S Padre Island Dr
AutoNation Buick GMC - 6602 S Padre Island Dr
AutoNation Hyundai - 6686 S Padre Island Dr
AutoNation Honda South Corpus Christi - 6702 S Padre Island Dr
AutoNation Ford - 6250 S Padre Island Dr
BROADCAST
All 2019 IceRays playoff games, home and away, will be available live on the IceRays Broadcast Network with "The Voice of the IceRays" Rob Sanderson on the call starting 20 minutes prior to puck drop, including a pre-game interview with IceRays Head Coach/GM Ryan Cruthers.
RADIO: Sportsradio Corpus Christi 1230 AM - 95.1 FM - 96.1 FM
ONLINE/APP AUDIO: Mixlr
TV (HD streaming iPPV): HockeyTV
SOCIAL MEDIA
Twitter: @goicerays
Facebook: /corpuschristiicerays
Instagram: @corpuschristiicerays
Playoff hashtag: #RaysTheRobby
GROUP TICKETS, SUITES AND ADDITIONAL QUESTIONS
361-814-PUCK (7825)
PLAYOFF ROSTER
Click HERE for a printable (PDF) roster - updated April 18, 2019
PLAYOFF FORMAT
The winner of the 1-Amarillo Bulls vs. 4-Corpus Christi IceRays series will move on to face the winner of the 2-Lone Star Brahmas vs. 3-Shreveport Mudbugs series in the South Division Finals with a trip to the Robertson Cup on the line. The four NAHL divisional playoff champions will advance to the 2019 Robertson Cup Championship, May 10-14 at Fogerty Arena in Blaine, Minn. Once the four NAHL Divisional Playoff Champions are determined, clubs will be seeded 1-4 based upon their finish in the NAHL regular-season standings. The game schedule will be as follows: The #1 Seed will face the #4 seed in a best-of-three series. The #2 seed will face the #3 seed in a best-of-three series. The two series winners will advance onto a one-game championship to determine the Robertson Cup National Champion.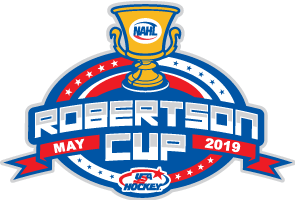 Past Robertson Cup Champions

| YEAR | CHAMPION |
| --- | --- |
| 2018 | Shreveport Mudbugs |
| 2017 | Lone Star Brahmas |
| 2016 | Fairbanks Ice Dogs |
| 2015 | Minnesota Wilderness |
| 2014 | Fairbanks Ice Dogs |
| 2013 | Amarillo Bulls |
| 2012 | Texas Tornado |
| 2011 | Fairbanks Ice Dogs |
| 2010 | Bismarck Bobcats |
| 2009 | St. Louis Bandits |
| 2008 | St. Louis Bandits |
| 2007 | St. Louis Bandits |
| 2006 | Texas Tornado |
| 2005 | Texas Tornado |
| 2004 | Texas Tornado |
| 2003 | Pittsburgh Forge |
| 2002 | Compuware Ambassadors |
| 2001 | Texas Tornado |
| 2000 | Danville Wings |
| 1999 | Compuware Ambassadors |
| 1998 | Compuware Ambassadors |
| 1997 | Springfield Jr. Blues |
| 1996 | Springfield Jr. Blues |
| 1995 | Compuware Ambassadors |
| 1994 | Compuware Ambassadors |
| 1993 | Kalamazoo Jr. K Wings |
| 1992 | Compuware Ambassadors |
| 1991 | Kalamazoo Jr. K Wings |
| 1990 | Compuware Ambassadors |
| 1989 | Compuware Ambassadors |
| 1988 | Compuware Ambassadors |
| 1987 | Compuware Ambassadors |
| 1986 | Compuware Ambassadors |
| 1985 | St. Clair Falcons |
| 1984 | St. Clair Falcons |
| 1983 | Paddock Pools |
| 1982 | Paddock Pools |
| 1981 | Paddock Pools |
| 1980 | Paddock Pools |
| 1979 | Paddock Pools |
| 1978 | Paddock Pools |
| 1977 | Paddock Pools |
| 1976 | Little Caesars |